Three years ago today
I started this blog
specifically for my Chaos Daemon army (hence the url 'wh40kdaemons.blogspot.com'). At the time, I was working on this army for a Tale of Four Gamers. Eventually I branched out to working on other armies, and decided to change the name to the War Room. I thought about changing the URL, but the one I wanted was not available so I kept this one. It made it easier to keep my followers.
The inspiration for the new blog name came from one of my all time favorite movies,
Dr. Strangelove, or How I Learned to Stopped Worrying and Love The Bomb
. See, I am a U.S. Air Force veteran and my first duty assignment was at Loring AFB (a B-52 base). This is where I saw the movie for the first time, so it has special meaning to me on top of being an awesome movie. Also, I love the quote about not fighting in the war room. If you have never seen the movie, I highly recommend it.
Anyway, it has been a great three years and to celebrate (besides drinking a beer or two and watching
Dr. Strangelove
), I will be giving away one brand new GW flyer kit from the list* below to one lucky follower of this blog.
Chaos Daemon Prince (hey, it's got wings!)
Dark Eldar Razorwing
Necron Doom Scythe/Night Scythe
Ork Bomma
Space Marine Stormtalon
Why a flyer? Because
Dr Stangelove
is mainly about a B-52 sent into the Soviet Union to drop The Bomb. Besides, flyers are cool.
Rules for the giveaway are simple. On Monday, October 1st, 2012, I will randomly determine one winner chosen from all followers of this blog. The winner will be mailed the flyer of their choice from the list above at no cost. The winner will have 72 hours from the time of the announcement to email me their name, mailing address and choice of flyer, or a new winner will be chosen. I will make my best effort to contact the winner. I will be purchasing** the flyer kit from my
FLGS
once I know what the winner has chosen. While they usually have everything in stock, shipping may be delayed if it is out of stock and has to be ordered.
So, if you are not already a follower, be sure to follow for your chance to win!
And lastly, I found this while I was searching for pictures to use in this post. Although I could not find a good place to fit it, it is too good not to include.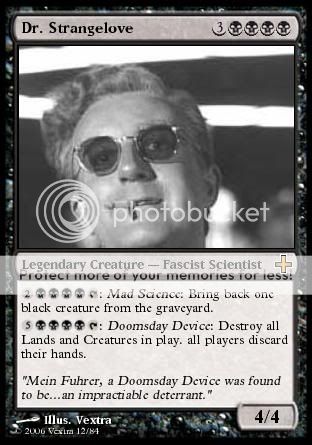 * - Maximum prize value is $50.00.
** - The GW kit will be purchased new and will ship in the original shrink-wrap. Any defects to the kit will need to be handled by the winner through GW customer support.